WOR-FM: A Brief History
by Allan Sniffen
In 1966 the Federal Communications Commission ruled that major market FM radio stations could no longer simulcast their AM sister stations. FM had to become separate with individual programming. This was deemed necessary to allow FM to grow and develop its own audience. The ruling put radio station owners in a bind. They needed to come up with new formats for these weaker and less desirable stations. Since FM was more difficult to receive, its universe of potential listeners was much smaller... and so was its billing. The new formats therefore had to be both different and relatively inexpensive to program.
It was in that environment that RKO General Broadcasting launched its new WOR-FM (98.7Mhz) "Hot 100" format on July 30, 1966. The name is deceiving because, in fact, it was the first progressive rock station in the country. It marketed itself as stereo as a way to distinguish itself from AM radio. The problem was that many of the records played by the station were not in stereo. While it was true that most record albums were stereo, singles were not. Since the singles came out before the albums, much of the new music it was breaking was in mono.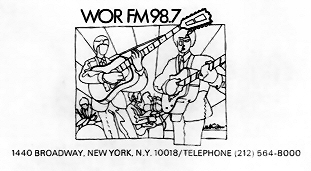 The original WOR-FM disc jockeys were Scott Muni (formerly of WABC and WMCA), Murray "the K" Kaufman (formerly of WINS), Rosko (Bill Mercer) and Johnny Michaels. Even though the format began on July 30, the disc jockeys did not. There were union problems with AFTRA. RKO did not want to pay FM disc jockeys the equivalent pay of their AM counterparts. As a result, the station segued from one record to another (except for taped promotions by the DJ's) until Saturday, October 8 1966. (From the trivia department, the first record played on WOR-FM was "Wild Thing" by the Troggs, and the first commercial was a Pepsi commercial.)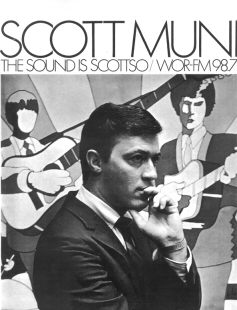 The First Day of DJ's on WOR-FM
(October 8, 1966)
(Features Scott Muni and Johnny Michaels)


The progressive rock format at this time was very open-ended. Today we tend to think of it as long album cuts with sometimes obscure groups and songs. This was not true in 1966. WOR-FM featured hit survey shows and even a weekend of "golden oldies"(March 1967).

Murray the K was the guiding light for the first year. His dedication to breaking new music became a theme for the station. Murray pushed records that he believed had potential to become hits such as Ike and Tina Turner's "River Deep, Mountain High". While it never became a U.S. hit (it was a hit in England), WOR-FM's dedication to playing the song did have an impact on New York record sales. WOR-FM's program director at that time, Tom Reynolds, felt the station was responsible for breaking such hits as "Society's Child". To illustrate the role the station was playing, a record promoter came back from England with an unusual record he'd heard there and liked. He sent the record to WOR-FM because he felt no one else would play it. Murray liked it so WOR-FM became the first station in the U.S. to play "Whiter Shade of Pale" by Procol Harum.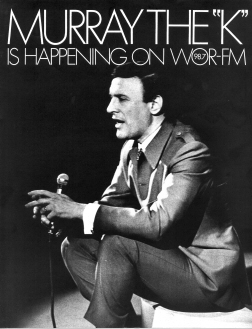 (courtesy Herb Squire)
WOR-FM became extremely popular on college campuses. It began to carve out an audience that had not been served by radio up until then. It was achieving decent ratings (for an FM station) without taking audience away from the AM stations by appealing to new listeners. This was significant. A Columbia University survey of its undergraduates found that 93% listened to FM as well as AM and that they listened to WOR-FM for 3 1/2 hours daily as compared with AM stations WMCA (1 1/2 hours) and WABC (1 hour). WOR-FM grossed anywhere from $500 to $1000 a week from record company commercials because of its reach into the college campuses.

Even so, owner RKO wasn't satisfied. Bill Drake had been consulting RKO's two West Coast stations; KHJ in Los Angeles and KFRC in San Francisco. These were both extremely successful AM Top 40 stations built around the "Drake-Chenault" philosophy of playing just the hits while minimizing almost everything else. In July of 1967 RKO hired Drake to consult its remaining radio properties which consisted of CKLW, Detroit; WRKO, Boston; WGMS, Washington DC; WHBQ, Memphis and, of course, WOR-FM.

The first sense of change came when memos appeared from management dictating to the air staff not to play certain cuts. Next the disc jockeys were removed from the new record listening sessions and not allowed to have input on the playlist. Next the playlist became all singles with only an occasional new record and it had to be from an established artist.

Murray the K had the highest rated FM show in New York; a 4 share on one ratings survey, a 3 on the next. This was higher than many AM shows and a terrific FM rating for New York. He would have no part of these changes and his protests cost him his job. He was fired by the station in September 1967. His parting comment about the changes at WOR-FM was "Who can live with that? Music has reached a maturity... people in radio are still treating it as if it is for teenie boppers."

Murray had a point. WOR-FM was different from the other RKO properties in that it was FM stereo as opposed to AM. It had built a solid audience by attracting a different group of people. Giving up on it after only a year seemed premature. Record companies had found the station highly valuable at influencing sales of rock albums especially of new artists and groups like Cream, The Doors, Jefferson Airplane, and The Jimi Hendrix Experience. The format was noted for playing new records first, often playing new artists that the local AM stations wouldn't play.

But by October of 1967 WOR-FM was changing and targeting the more traditional Top 40 radio audience. The playlist was down to about 30 records. Other WOR-FM disc jockeys resigned including Bill "Rosko" Mercer who actually quit on the air while commenting that his action had nothing to do with the old management but with the programming consultants who had taken over. He spoke of honoring the respect listeners had for the station and described the new programming consultants (i.e.. Bill Drake) saying "what they're doing is dishonest to us and to you." If there had been any way to continue, he said, "we would have. I did a lot of soul-searching. This has nothing to do with the old management we started out with. We presented a lot of beautiful new things. This has been curbed." He said he couldn't go on with the new policy because people would say: "Hey, Rosko, you're not the same any more."
Rosko Resigns from WOR-FM
(October 2, 1967)
(courtesy Artie Altro)

By November of 1967, WOR-FM had completed the changeover to a tight-playlist operation with the exit of Scott Muni and Johnny Michaels. (It should be noted that both Scott Muni and Rosko moved over to Metromedia's WNEW-FM. When WOR-FM gave up the progressive rock format, WNEW-FM picked it up and became legendary.)

So why did RKO change WOR-FM? One theory was that a more traditional Top 40 format would pull audience away from WABC and WMCA so the winner would then be sister station WOR-AM. It had a talk format so would appear better in the ratings if Top 40 competitors WABC and WMCA lost audience. The progressive WOR-FM had created its own audience rather than luring them away from WABC and WMCA. That didn't help WOR-AM. In 1967 the big advertising dollars came from AM stations so if FM could help AM by stealing a few listeners from the competition, it was worth a try. Or so management thought. The other reason was that Bill Drake was now the boss and he simply didn't have any use for progressive rock radio. He had developed a rapidly growing format for KHJ and KFRC and wanted to program it in New York.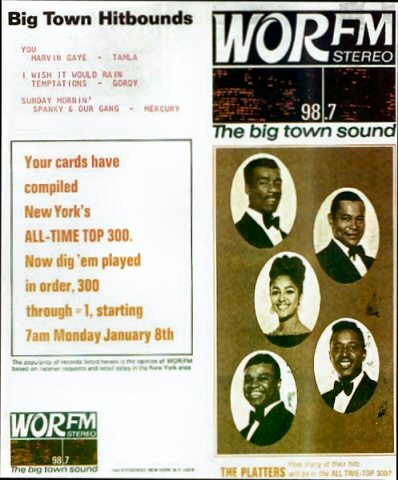 (January 1968)
WOR-FM was now a Drake-Chenault radio station just like most of the other RKO properties. It was a Top 40 format which also featured a significant number of oldies (which separated it from WABC and WMCA). It differed from the other Drake RKO stations in that it was FM stereo and was promoted as such. By January of 1968 Sebastian Stone was program director and morning air personality. He had worked under the name "Johnny Mitchell" at KHJ in Los Angeles and was quite familiar with the Drake format.
The sound of the station was very similar to the other Drake Top 40 stations from the jingles right down to the Bill Drake voiced sweepers which included the phrases "And the hits just keep on comin'!" and "Ladies and Gentlemen you're listening to ".
Between the ill will created by dumping the original WOR-FM format and the difficulty fighting such well established stations like WABC and WMCA very few believed the new format would be a success. In fact, just being on FM instead of AM was a problem in the late sixties. Yet, WOR-FM became a great Top 40 radio station eventually quieting the critics. It continued with the Drake approach and executed the format flawlessly. Drake did allow for some album cuts although not to the extent of a progressive station. It carried the famous Drake production "The History of Rock and Roll". It had "20/20 Newscasts", deep throated announcers, TM jingles and request lines; all characteristics of the RKO Drake stations.
Jim O'Brien
(January 1969)
(courtesy Dave Saviet)

There were many disk jockeys that came and went over those years. Unlike WABC and WMCA which had relatively stable air personalities, WOR-FM seemed to have constant change. Some of the well known personalities heard over these years included Tommy Edwards (later of WLS), Johnny Donovan (later of WABC), Bill Brown (later of WCBS-FM), Al Brady (later program director for WABC), Dan Thompson, Joe McCoy (later program director of WCBS-FM), Mark Driscoll, Walt Baby Love, Jim O'Brien, Steve Clark and Tony Taylor.


(Hal Mitchell, Sebastian Stone, Tony Taylor, Jim O'Brien)


(Bob Elliott, Steve Clark, Bill Brown)
(1968)
One of the things that made the Drake-Chenault Top 40 stations work was the great sound of the disk jockeys. Great voices, tight board work and enthusiasm.
By 1972 the Pulse ratings book gave WOR-FM excellent ratings. WABC was still by far the market leader but WOR-FM was doing very well. FM stations simply had not performed at the level that WOR-FM was then performing at. Some of that was due to the improving quality of FM radios. Greater numbers of people had good FM stereo radios. The movement of the music audience to FM was beginning and WOR-FM was benefiting.
Johnny Donovan
(May 1972)
(courtesy Johnny Donovan)

WOR-FM changed its call letters to WXLO on October 23, 1972. Mel Phillips was then program director and the idea was to distinguish the station from WOR-AM. Originally the call letters were to be changed to WROQ to go with the theme "Rock On". But, before the switch could take place "WROQ" was taken by another radio station. "WXLO" sounded good to management so it was chosen. There was no other significance. When it became WXLO it ran the "X, L or O Game" where listeners called in to pick one of the three letters to win prizes. The intent was to cement the new call letters in listeners' minds and it was the beginning of what would become a steady stream of promotions and over air contests.
While WXLO was doing relatively well in New York in 1973, the other RKO Drake Chanault stations were losing audience. They were AM stations (KHJ Los Angles, CKLW Windsor/Detroit, WRKO Boston) and were suffering from the audience erosion problem beginning to face all AM rock stations. In 1972 RKO selected Bruce Johnson as president of RKO General Broadcasting and he was commissioned to do something about the AM audience erosion problem. That put pressure on the RKO/Drake relationship. Some adjustments were made to the basic format such as additional album cuts. Drake came up with other formats for some of the FM counterparts to the RKO AM stations he was consulting but these formats were not tried at WXLO since it was still succeeding with the original Top 40 hits format. But these changes weren't enough to save the relationship. Due to the problems in markets outside of New York, RKO canceled the consultancy contract with Drake-Chenault in 1973.

WXLO was then on its own which was probably a good thing for the station since it was no longer under the thumb of outside consultants. Whereas in 1967, FM was the weak sister of strong AM counterparts, by 1973 it was coming into its own. This meant the station was making money so it could afford additional programming, talent and promotions. Local control allowed the format to be better targeted at New York.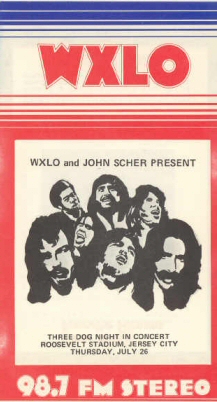 (1973)
(courtesy radiotimeline.com)
WXLO adopted the brand "99X" in 1974. It shifted from the "Drake Sound" to a higher energy, more up-tempo Top 40 sound sometimes referred to as "The Q Format" (named after KCBQ-AM/San Diego). It played lots of current and recent hits with fewer "older" oldies.
While the station had never been shy with aggressive programming, 99X was relentless under PD Jerry Clifton. It began to mount all kinds of promotions. There were constant call in to win contests for records and concert tickets as well as big money and prize promotions. It pounded away at WABC and FM competitors WPLJ and WPIX-FM. Contest after contest aired. The station ran a telephone contest where listeners could win $10,000 (or more) if they answered the phone "99X is my radio station". It ran original weekend promotions such as the "Battle of the Hits" where listeners could call in and vote for the "champion or the challenger" between two songs (Elton John's "Harmony" won as the champion for over 20 consecutive contests (and airplays) one weekend).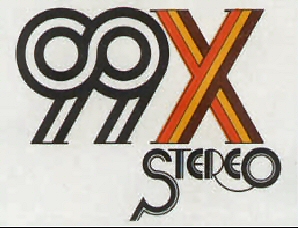 Walt Baby Love
(May 1974)
(courtesy BigAppleAirchecks.com)

Walt "Baby" Love who had been hired as a disk jockey at the end of the Drake Era continued at the station and was an outstanding air personality in afternoons. Other disk jockeys from the 99X Era included Jay Thomas, Steve "Smokin'" Weed, Jay Stone, Dave Thompson, Lee Douglas, Dick Sloane, Sue O'Neil, Al Bandiero, Paulie and lots more. Just as with WOR-FM, the station had a high disk jockey turnover rate. Sometimes the DJ's would only be there for a couple of weeks. DJ Tom Morgan might have been with the station for all of a month before defecting to cross town WPLJ. I met Tom a couple of years later when he was working in Chicago (for WDAI-FM). I asked him about his time at 99X and his only comment was... "That's radio"!
Lee Douglas
(July 1975)
(source Pat Riley)


During the mid to late seventies 99X had a great run as a Top 40 radio station. It proved that AM type Top 40 could work with great success on FM. But times changed. RKO's parent company General Tire was forced to sell the station due to questionable advertising practices throughout the RKO radio chain. And radio became more and more fragmented. Between the competition from WPLJ (album hits without the hype) on one side and WKTU (Disco) on the other, the traditional Top 40 audience was splintering. Eventually 99X reverted back to "FM 99 WXLO" and moved toward an Adult Contemporary format in 1979 and then changed completely to an Urban Contemporary format as "KISS-FM" in 1980. The call letters were again changed, this time to WRKS.
Rock formatted radio was gone from 98.7.